Written by Amy Truman & Kelsey DeLonis
When working with an ASL (American Sign Language) interpreter, telling the interpreter "Don't interpret that" is not only unethical, it also implies that the interpreter is unnecessary. This is true if either the Deaf client or the hearing client says this to the interpreter. The interpreter has a responsibility to make sure that both parties understand everything equally throughout the duration of the appointment.
If there is something that needs to be said privately, it is more appropriate to excuse yourself momentarily from the vicinity. The interpreter is provided for both parties equally. This back-and-forth interaction cannot proceed smoothly without the interpreter fulfilling their entire role. As mentioned in our blog

"How To Use an ASL Interpreter 101,"

by the time you can say "Don't interpret that," odds are the interpreter has already interpreted it. At the basest level, asking an interpreter to omit information is unethical. When interacting with any individual who can hear what is being said, we are not afforded that extra filtered layer of communication.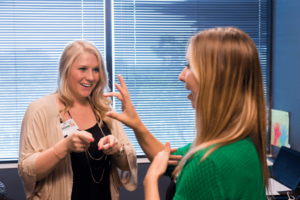 Treat your Deaf client the same as you would any other person, with the understanding that they have a basic human right to equal access of everything happening in their environment. To take advantage of the fact that the Deaf person won't hear your words or that the hearing person doesn't know ASL, and to include the interpreter as a part of that censorship, is to invite distrust between everyone involved in the interaction. It is important to keep in mind that when an interpreter is in the room, he/she is not your filter. The interpreter functions as a bridge providing full access to the entire situation. The Deaf person is as much your colleague, patient, client, or team member as any other person who does not require an interpreter.