In the early 1990's when LTC first began, globalization was far from a hot topic in Indiana. The state's location in the heart of the country, far from major world trade hubs, provided a bit of isolation from the changing market landscape of the coasts. But as waves of immigration began to flood Indiana, and as Indianapolis-based businesses began to gain traction in the global marketplace, the tides began to turn.
At that time, LTC's CEO Martin George was teaching at IUPUI in the field of Language Education. He had begun to receive requests for programs targeting adults, and more specifically at international professionals. These professionals were either moving to the United States on a relocation assignment, or moving from the U.S. to a post overseas. Programs of this nature were not readily available through schools or local businesses, and so George decided to help fill this need himself. He took with him the years of academic experience in language acquisition and used this as a basis to build a learning model that still serves clients well two-and-a-half decades later.
Connecting Clients to the Worldwide Conversation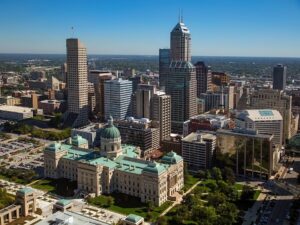 The United States is singular among world leaders for the rate of citizens who are monolingual. Only 15-20% of US citizens consider themselves bilingual, a drastic difference from 56% of Europeans. In order to better participate in the conversations happening around the globe, language skills have never been so important, and many companies began coming to this realization as well.
At first, most clients were from large corporations who were expanding their global reach. Many were expats from a wide range of countries who were hoping to sharpen their skills in English and better their professional prospects. Through a coordinated approach of hands-on experience mixed with training programs customized around the individual student's needs, goals, and interests, the students made major strides.
With the success of this approach clearly demonstrated, LTC expanded their focus to serve clients who were relocating overseas. Having lived as an expat himself in China for seven years, George understood that it takes more than a basic grasp of the language to succeed professionally in a new business culture. He also knew professional success wasn't always enough to make an overseas relocation work. That is why he and his team of instructors took a holistic approach to language training, weaving in essential information on cultural practices, history, business customs, and even practical knowledge of daily life and logistics into lessons to ensure that the knowledge gained by the clients would be the knowledge needed to succeed.
LTC's language training program has continued to expand over the past 24 years, adding programs aimed to meet a wider variety of needs. In today's market, Fortune 500 executives are far from the only people touched by globalization, and many more today see the benefit of expanding linguistic and cultural aptitudes. From helping state and local government agencies better serve a continually diversifying population, to partnering with small businesses to improve communication with non-native employees, LTC continues to broaden the cultural capacity of many organizations in both the public and private sector.
Beyond the Classroom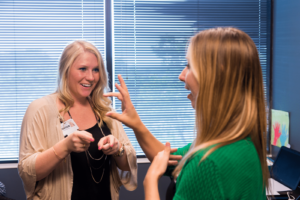 While initially focusing on bridging linguistic gaps through language training and education, LTC began to expand their focus to include more immediate methods of communication: interpretation and translation. These services opened the door to serve a larger range of clients, who might not have the time to invest in longer-term language training programs, but still needed a pathway to participate in the worldwide conversation.
The trend of monolingualism expands past the US's English-speaking population and into the pockets of culturally diverse and socially isolated segments of the population. With over 185 languages actively spoken in the United States, the need for immediate communication between people of diverse backgrounds is only becoming more and more pervasive.
Through interpreting, LTC began partnering with medical centers, hospitals and other industries that served a diverse population and needed assistance in their intercultural communication. These partnerships not only helped expand LTC as a company, but also helped to expand capacity for community support to all populations. LTC now provides interpreting services in medical, legal, social service, and educational settings, and continues to expand its reach to meet the needs of a larger segment of the population in Indianapolis.
However, verbal communication is not the only way vital information is communicated. As the workforce of Indiana grew in diversity, there was a need to ensure that essential safety information and expectations were understood across all segments of the employee base. To meet that need, LTC began offering translation of crucial documents, such as employee handbooks, onboarding documents, and safety manuals. This brought the possibility of a safe and successful workplace to people who might otherwise have been left out of the conversation, and provided companies with the peace of mind of knowing that guidelines and expectations were fully understood.
Through over two decades of dedicated work to connect people through language training, interpreting, and translation, LTC has created a bridge from Indianapolis into the global conversation. It began with a model of language acquisition that tailored programs to the individual's profession, lifestyle and goals, and expanded to what is now a full-service language company. LTC's reach continues to grow as they pursue new and innovative ways to bring Indianapolis and surrounding areas into the international spotlight.
-Casey Buchanan, Marketing Coordinator