Written by 
Wendy Carson
Here in 2020, it's hard to get through your day without interacting with other cultures. As our jobs and lives become more global, we have the opportunity to speak and work with people from all over the world. You've inevitably seen how interactions and expectations can differ depending on the culture and gender with whom you're working. Forgetting the issues that may arise with different languages, there are many other unspoken factors that come into play when trying to communicate across cultures and genders. By knowing a bit more about these factors, you can increase your success in everyday business communication.
When speaking with someone, have you ever noticed how close you're standing or sitting to the person? A 2009 survey found that when women are speaking with other women, they tend to stand closer together, while men to stand further apart. Both men and women report feeling more comfortable when standing or sitting next to another woman.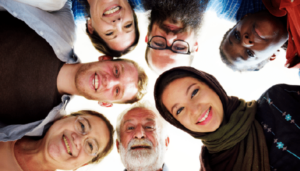 Photo credit by Deputy
Depending on one's culture, feelings of discomfort can be either diminished or magnified. Hispanics, Europeans, and Caucasians don't feel as though their space is being invaded by a woman, while Middle Easterners are typically at the opposite end of the spectrum. If this interaction happens to involve touch, feelings could be different. Whereas a European or American woman might feel the most comfortable with you standing nearer to her, she is the most likely to notice being casually touched, especially by a man. This occurs, in part, because a woman's touch is seen as a friendly gesture, while a man's touch is viewed as an expression of power or sexual interest. Other than a handshake, men in these cultures are also often uncomfortable by casual touches from another man, especially one with whom they are not well acquainted. 
In contrast, in Hispanic, Middle Eastern, or other "high-contact" cultures, you will see that members of the same gender readily and frequently use casual touch as a form of non-verbal communication. In Muslim cultures, men and women often feel uncomfortable touching someone of the opposite sex, sometimes even for something as common in Western culture as shaking hands. Conversely, in Hispanic cultures, casual touch and even cheek-kissing between and across genders is considered perfectly professional. Try that in the USA and be prepared to get slapped with a sexual harassment suit!
How is eye contact viewed in your culture? In many societies, prolonged or steady eye-contact from a woman to a man is viewed incorrectly as romantic interest. Western cultures tend to place a heavy importance on one's ability to maintain eye contact since it is viewed as a sign of being engaged and confident. For example, making eye contact during a job interview can help show that the interviewee is self-assured and driven—someone who can be trusted. On the other hand, in Eastern cultures, maintaining eye contact, even between two members of the same gender, is considered to be very disrespectful and too personal. In an interaction between a subordinate and a manager, the subordinate would avoid eye contact as a form of respect and courtesy.
Being a citizen of the world means continuing to learn and grow, and knowing more helps you to succeed. When you help colleagues, clients, and employees feel comfortable, you will find it much easier to achieve your professional goals. 
Learn more about LTC and cross-cultural training or call us at 888-456-1626.