As a language service provider, we are in the business of customer service.  That should be a simple concept.  Someone has a need and we as a company meet that need.  But as you know, it is not that simple. After 28 years in the industry, we know how our services work and generally what our customers need.  We still listen and ensure each of the services we offer is right for the intended audience.  However, from time to time, people have a different expectation on what they thought would happen, how fast the process would go, or the linguistic accuracy both semantically and syntactically. That is where the fun begins.  It is always a wonderful experience to work through the process with our clients and see the light bulb turn on.  We want them to have a great experience as much as we do.  
For example, when providing a technical translation, our translators can translate 2,000 unique words per day into the target language.  Then it must be proofed and edited to ensure linguistic accuracy.  So, a 5-page document that has 2000 words will take 2-3 days for professional translators and proofreaders to work through the process.  Clients who have had experience with pushing a button and seeing words instantly translated into a new language can insist on a quicker turn around. This is where we get to serve the customer and explain the professional translation process to ensure we have similar expectations.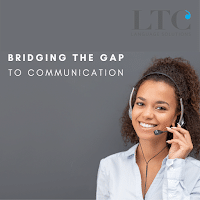 We hope you have had the opportunity to work with highly trained and skilled linguists to learn a language or when you have needed an interpreter or translator.  If you have not had the opportunity to work with a trained professional, you are in for a treat.  Work with them and present what you need and expect and let the fun begin.
For more information about simultaneous interpreting or other services at LTC, please call us at 888-456-1626.